Copiously cozy
Le Grand Lodge
This lodge style cottage, is located on the shores of Petit Lac Long. The interior decoration with antique beams, cathedral ceiling, large windows and the heated floor with the slow burning fireplace, makes it a very cozy place. The open space layout is ideal for enjoying good times with friends or family.
The cottage can host up to 16 PEOPLE or smaller groups, in great comfort. The living area is very spacious, the dining room has a large wooden table for 18 people, there are two lounges, three bathrooms and six bedrooms. The relaxing lounge and the terrace offer a magnificent view of the water and for more entertainment, there is a pool table, cable tv, wifi and portative sound system. Outside, you can enjoy a bonfire, surrounded by Adirondak chairs.
On the site, you can enjoy our small outdoor base including playground with a swing set, enormous sandbox, hiking trails, and PRIVATE BEACH giving access to the lake for swimming or water sports (kayaks and paddle board included). This beach is shared with our cottages of Berges du sommet.
Within walking distance or a few minutes by cars, discover exceptional hiking, snowshoeing, cycling and cross-country skiing trails maintained by the town. The Grand Lodge is the ideal place for a holiday, a celebration, a wedding or a corporate event. Everything has been implemented for comfort, relaxation and pleasure. It is easy access and there is a big parking in front of the cottage. For more details on rates or to make a reservation, please contact us!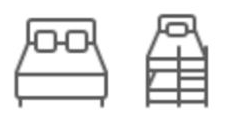 Room 4
1 bed Queen size, 2 simple beds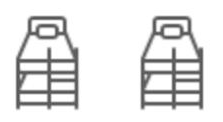 Read more

Read less
Linens and towels provided
Prices and Availibilities
By selecting your dates, you will obtain the exact price. Please contact us directly for a one night reservation.
The cottage is located 5 MINUTES away from the villages of St-Adolphe and Morin-Heights and 10 MINUTES away from St-Sauveur, which allows to live unforgettable moments in intimacy and in harmony with nature, while being very close to all activities offered in the region. In addition, all conveniences are nearby (grocery store, local bakery, pharmacy, SAQ, etc.).
Kyle
The chalet was even nicer than in the pictures. It was very clean, spacious and overall a fantastic place to entertain. Will 100% be back soon!
Anne-Marie
Beautiful place! Amazing accommodations! Great for family and friends! Such great service! Everyone loved it! Definitely will be going back!! Thank you!!
Steeve-Arnold Etienne
The cottage was more than PERFECT and lacks nothing. There is a soothing calm. A view of the lake which alone you rest of these pleasant days. The discovery of this beautiful cottage has given us the taste to extend our experience for the last 2 weeks of December 2018, but unfortunately they are already filled. The location of the cottage is just as remarkable ALL Activities this is less than 10-15 minutes by car. I rent cottages very often and this one was just WOWWW and one thing is certain, I will return! 5 stars
Caroline Provencher
WoW Beautiful newly renovated cottage in superb setting, easily accessible. Great big kitchen well equipped great for cooking with friends Enough space for sleeping ,eating and dancing . Amazing place for our office party of 15 Everyone wants to go back next year !!!

Read more

Read less
DEPOSIT : 50% deposit is required at time of booking.SECOND PAYMENT : The final payment as well as the security deposit are due six weeks before the stay.SECURITY DEPOSIT : As a security deposit we ask for a credit card number on file, we also accept a transfer of $ 750 that will be reimbursed following an onsite inspection after your stay. Any unintentional or willful damage to the cottage or caused by negligence on your part will be deducted from it. A minimum fee of $ 5 will be retained for each broken or missing item. CANCELLATION POLICY : In case of cancellation, your reservation deposit will be refunded if we manage to re-let the chalet for these same dates. In the event of a refund, notice that an administration fee of $ 150 plus taxes, for each chalet booked, will be deducted from your deposit. HOURSCheck-in time: between 4 pm and 9 pm
Check-out time: 11 AM ANIMALS : For reasons of hygiene and cleanliness of the premises, animals are not allowed on the site. However, it is possible to make a written agreement with the owner. Fees may apply.AGE OF OCCUPANTS : Tenants must be at least 25 years old (except for children accompanied by responsible adults). Any rental obtained under false pretense will cause an immediate termination of the contract and the tenants will be asked to leave immediately without refund. SILENCE HOURS : Customers should avoid making noise from 9pm and 10 am

Rules & Cancellation policy

Read less
© 2023 Locations du sommet. All rights reserved.