ABUNDANT SUNSHINE
Le Panorama
Chalet surrounded by beautiful nature
With it's beautiful fenestration and open space, offers you a stunning view of the forest.
It is spacious, with several relaxation areas and can host up to 8 adults.
This home is totally furnished and beautifully decorated. It is equipped with a gaz fireplace, a spa and a family room with tv and a hockey table, to offer you a warm comfortable stay .
You can access from the lodge to several hiking, bike, cross-country and snowshoe trails. A few minutes drive will bring you to Ski Morin Heights and during summer the amazing Saint Francois Xavier lake is about 20 min away.
For more details on rates or to make a reservation, please contact us!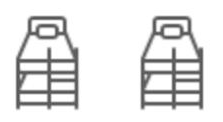 Living room
4 simple beds



Read more

Read less
Équipements and amenities
Proximity to the ski resort
Hiking, cycling, snowshoeing and cross-country skiing trails
Linens and towels provided
Prices and Availibilities
By selecting your dates, you will obtain the exact price. Please contact us directly for a one night reservation.
The cottage is located 5 MINUTES away from the villages of Morin-Heights and 10 MINUTES away from St-Sauveur, which allows to live unforgettable moments in intimacy and in harmony with nature, while being very close to all activities offered in the region. In addition, all conveniences are nearby (grocery store, local bakery, pharmacy, SAQ, etc.).
Leanne
The Panorama is lovely! It was a great place for us to unwind with our family. The place is well thought out and has everything you would need for a comfortable stay. It is a new build, so the house is spotless and mostly everything is brand new inside, which is a bonus! It is located on a cul de sac where other houses are being built, but we couldn't hear the construction noise during our stay, so we weren't bothered by it. The beds are very comfortable and there is plenty of storage/closet space, including in the bathrooms. It really does feel like a home away from home- although make sure to bring laundry detergent if you plan on doing laundry during your stay. Also, note that there is no air conditioning as far as we could tell. We enjoyed eating in the screened in porch room and loved the high ceilings and decor throughout. Each evening, we would go out after dinner and sit by the fire with our children and roast marshmallows. Be sure to watch your step out to the fire pit as the step is not wide enough, like regular stairs.
All in all, a great time was had and highly recommend the Panorama!
Diane Mailhot
Impeccable chalet very spacious with all amenities. Beautiful light in the chalet with large windows. Quality bedding and mattresses. We really enjoyed the Air Hockey, the spa and the veranda for summer dinners.
DEPOSIT : 50% deposit is required at time of booking.SECOND PAYMENT : The final payment as well as the security deposit are due six weeks before the stay.SECURITY DEPOSIT : As a security deposit we ask for a credit card number on file, we also accept a transfer of $ 750 that will be reimbursed following an onsite inspection after your stay. Any unintentional or willful damage to the cottage or caused by negligence on your part will be deducted from it. A minimum fee of $ 5 will be retained for each broken or missing item. CANCELLATION POLICY : In case of cancellation, your reservation deposit will be refunded if we manage to re-let the chalet for these same dates. In the event of a refund, notice that an administration fee of $ 150 plus taxes, for each chalet booked, will be deducted from your deposit. HOURSCheck-in time: between 4 pm and 9 pm
Check-out time: 11 AM ANIMALS : For reasons of hygiene and cleanliness of the premises, animals are not allowed on the site. However, it is possible to make a written agreement with the owner. Fees may apply.AGE OF OCCUPANTS : Tenants must be at least 25 years old (except for children accompanied by responsible adults). Any rental obtained under false pretense will cause an immediate termination of the contract and the tenants will be asked to leave immediately without refund. SILENCE HOURS : Customers should avoid making noise from 9pm and 10 am

Rules & Cancellation policy

Read less
© 2023 Locations du sommet. All rights reserved.